City and County of Denver
Service: Multi-Stakeholder Facilitation
Size: $2.2 billion project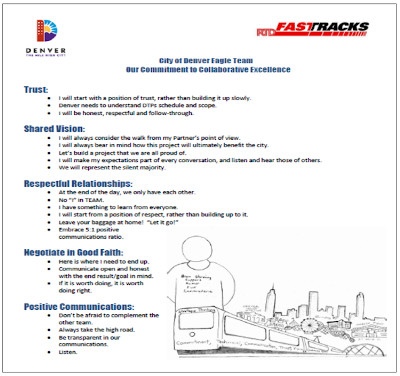 Challenge
The Eagle P3 Commuter Rail Collaborative Excellence Process was a project to design and build two commuter rail corridors, one from Denver Union Station to the airport and the other from downtown out to the western suburbs. The "Eagle" partnership included the Regional Transportation District (RTD) and a private company, Denver Transit Partners (DTP). It was a fast-paced, high-dollar, high-risk project. And as with any multiple partner project, tension, competition and conflict was a potential issue.
Solution
In partnership with Kami Guildner and the Denver Public Works team, we designed a multi-phase program with a strategic blend of training, teambuilding, leadership development and multi-stakeholder facilitation. The next phase featured real-world past projects of positive partnering and the benefit of a common vision. Finally, participants from all levels of each organization worked on actual projects issues, including permit approval and the escalation-to-leadership process. After studying their typical decision-making process and its challenges, they co-created and agreed to new, more efficient collaborative approaches.
Results
The project is now built and operating successfully. Specific results from the Collaborative Excellence process included:
Streamlined permitting processes
A smoother and more functional oversight structure
Restored commitment to getting the job done right.
More productive relationships
Faster, more efficient decision-making
Participants reported that they gained:
Specific role understanding and appreciation
Personal courage and shared commitment
A willingness to release "stubbornness barriers"
Greater flexibility
Stronger belief in the power of positivity
Greater motivation toward solutions
Openness for new solutions
"
We've heard from a lot of people, including upper management, that they were so thankful that we did this process and they wish other jurisdictions would do the same. We're on a great path forward.
"
Jennifer Hillhouse,
Deputy Director of Planning,
North Denver Collaborative Partnership