City of Longmont
Service: Strategic Planning, Multi-Stakeholder Facilitation
Size: Population of 85,000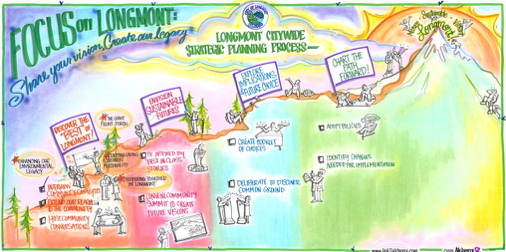 Challenge
Longmont wanted to plan to address declining residential growth and the resulting revenue impacts. They knew they needed to strike a balance between expenditures and revenue while still effectively serving residents. They also wanted to bring multiple voices into a meaningful conversation. Finally, they sought to create a community-supported plan that would actually be implemented.
Solution
Through hundreds of interviews and 15 community conversations, we helped Longmont city staff assemble a 34-person committee to guide their strategy for the project, named Focus on Longmont. Next, they hosted multiple events, including a day-long summit, to bring meaningful and motivated new voices together to discuss the city's future: senior and junior citizens, past and present city councilors, auto mechanics, hair stylists, restaurant owners, fireman, city staff, civic activists and more. We then applied the Appreciative Inquiry (AI) process, deliberative dialogue and keypad polling in small groups. Participants brainstormed ideas to break the city's economic dependence on the growth and outward expansion, shifting the focus from complaints to opportunities. Together, they defined the city's strengths and discovered their own common ambitions for the future.
Results
What emerged, in addition to a 40-page report and five strategic directions, was city pride, fresh eyes from the community, a shared vision, energy for action, respect for process and a belief in the collective capacity and wisdom to make things happen. The strategic plan prompted several changes to the city council, community insights on the broader role of city government, and an organizational cultural transformation toward embracing cross-departmental and community-wide involvement in all aspects of city government. Finally, Longmont has gone on to use AI for police and fire department strategic planning, its branding processing, purchasing processes and downtown development.
"
Focus on Longmont exceeded all of our expectations. It has become the driving force for the future of Longmont. We couldn't have imagined the way the initiative has galvanized energy around Longmont's sustainable future.
"
Karen Roney, Director of Community Services