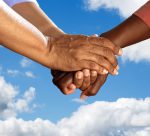 Holding space for one another in this time of collective vulnerability
"Holding space" is a term often used by social workers, facilitators and other helping professionals as we bring people into difficult conversations, navigate change and transitions within organizations, and help give voice to those who may not normally feel heard.
In a time where no one is immune to pain and suffering, how do we do "hold space" for one another?
I continue to find myself learning from a variety of experiences and emotions on a daily and sometimes hourly basis. One minute I am the one with the strength and optimism to be a vessel for others' anxiety and struggles. The next, I am literally on my knees asking for that same strength and optimism.
Never has it been more important to share our own vulnerabilities. When we do not, we risk anger, loneliness and fear. We also deprive others of the opportunity to hold space for us.
"We don't have to do all of it alone. We were never meant to." Brené Brown
May we all continue to find strength in one another as we share in the lessons of this collective experience so that when we arrive on the other side, we are transformed for the better.
Who are you holding space for?
Who are you allowing to hold space for you?