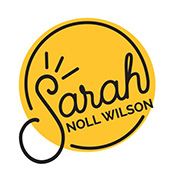 Sarah Noll Wilson, Inc. is on a mission to help leaders build and rebuild teams. Our goal is to empower leaders to understand and honor the beautiful complexity of the humans they serve. We create a safe, honest environment, preparing people to deal with real-world conflict, have more meaningful conversations, and create purposeful relationships. Working with CEO's, HR leaders, and organizations that care deeply about their employees and understand the connection between employee development, employee satisfaction, and organizational success, Sarah Noll Wilson, Inc. specializes in transforming relationships from good to great.
Sarah Noll Wilson
CEO/Chief Edge Officer
sarahnollwilson.com
sarah@sarahnollwilson.com
Through her work as an Executive Coach, an in-demand Keynote Speaker, Researcher, Contributor to Harvard Business Review, and Bestselling Author of "Don't Feed the Elephants", Sarah Noll Wilson helps leaders close the gap between what they intend to do and the actual impact they make. She hosts the podcast "Conversations on Conversations", is certified in Co-Active Coaching, Conversational Intelligence, and is a frequent guest lecturer at universities.
Dr. Teresa Peterson 
Director of Learning and Development
sarahnollwilson.com
teresa@sarahnollwilson.com
Teresa is passionate about applying best practices for learning to make development experiences meaningful, engaging, and accessible for all types of learners. In her role, Teresa co-creates powerful learning content and guides deep research. Teresa holds a Doctorate in Education from the University of Northern Iowa and brings over twenty years of experience teaching, facilitating, and leading. She holds a Conflict Resolution Certificate from Cornell University; she also is trained in Immunity to Change Coaching and Certified in Appreciative Inquiry.  Clients love Teresa's grounded energy, depth of thought, and ability to listen deeply.