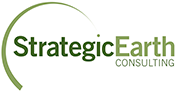 Kelly Sayce, MAS
Founder & HEO, Strategic Earth Consulting
kelly@strategicearth.com
310-876-8087
www.strategicearth.com/
Strategic Earth Consulting is a woman-owned, small business enterprise working with local communities in California and nationwide. Our team of empathetic communicators, daring leaders, and skilled facilitators co-create inclusive dialogue to advance collaborative decision-making. We envision a world where inclusive dialogue and meaningful collaboration are at the center of efforts to address natural resource management challenges. Our team's approach is rooted in our commitment to relationship building, which facilitates equitable processes and mutually beneficial outcomes. We believe clear, shared expectations and open lines of communication are central to durable and productive relationships.