Thornwell Family Services
Service: Leadership Development, Team Building and Engagement, Culture Change
Size: Nearly 20 programs serving a three-state region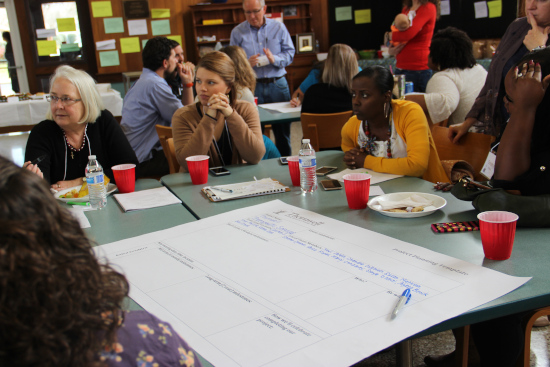 Challenge
A shifting landscape in child welfare, changes in funding and legislation, and the emergence of new client needs compelled this child and family services organization to reimagine itself as it approached its 150th anniversary. Senior Leadership invited the Rocky Mountain Center to be long-term partners as they sought to enhance alignment and teamwork throughout the organization, develop a next generation of leaders, and cultivate organization-wide commitment to action.
Solution(s)
An initial 100-person summit invited staff from all levels and locations to celebrate their history, forge new relationships, and renew their commitment to the mission. Following the summit, senior and mid-level leaders participated in a ten-step Appreciative Team Building process, which they were subsequently trained to carry into their home teams.
Building on the momentum from the Appreciative Team Building experience, senior leadership chose to invest even more deeply in the organization's "Next Generation Leaders." 25 emerging leaders participated in a two-day retreat designed to:
Develop relationships and a sense of cohesion across their newly identified leadership team.
Promote communication across departments and sites
Identify the strengths and capacities of the team
Create a clear vision for how Middle and Senior Leadership teams partner in support of organization priorities
Results
Increased internal capacity to create and sustain performance
A reimagined customer and donor experience
Launch of new programs, including an on-site farm
Support of programs in process, including an on-site charter school
Increased staff morale and engagement
Enhanced mentoring / leadership opportunities throughout the organization
New meeting structure for mid-level managers and senior leadership team
Communication strategy for how leaders will share information with one another and the organization as a whole
Pilot plan for decision-making process
"
Your process has transformed how we engage with each other, our Board, supporters and other stakeholders. It's showed us how to capitalize on our individual strengths, and align them to make our organization strong. Now, together, we are co-creators, ready to address the opportunities before us and, in turn, make a transformational difference in the lives of the children and families we serve.
"
The Reverend Elliot M. Smith
Thornwell, President and CEO